The other day I fantasized about becoming a famous writer. I imagined Oprah, or maybe the pediatric blond from the local broadcast news, asking me about my favorite celebrity authors and who inspired me to write. My response was quick and easy—the first was Erma Bombeck, the second was Albert Einstein. Couldn't you just see them as a couple?
I loved Erma Bombeck. She was so incredibly real to me. She knew about life in the domestic trenches and as a gladiator in the working-woman arena. She dispensed a tumbler of reality with a festive umbrella of whimsy. I thought she was extraordinarily funny, and I wanted her to be my neighbor and good friend. Perhaps she'd pop over on a crisp morning after the kids went off to school and we'd swap stories over coffee, herbal tea, or a mimosa.
Einstein, on the other hand, was surreal to me. Sure, I was undeniably attracted to his wildly unruly hair, but it was my obsession with the desire to think that caused our paths to cross. The social ideals, spiritual beliefs, and reasoning ability (ok, not the brainiac theories) he brought to my world enlightened me in a most transformative way. I would have liked to have met him, or have sat at a nearby café table simply observing him. Fascinations cannot always be explained. Erma would have known just what to say about it.
I don't wish for fame or public success, but it would be awesome to be famous and anonymous at the same time—like Howard Hughes shopping at a flea market. I would have fun haggling with someone over a used toaster oven and then leave money on the counter for them to purchase it after I had conceded, all the while walking away feeling supremely satisfied with my $3.00 Lord and Taylor sweater that I'd rescued from spending eternity shoved indiscriminately in the ladies' sweaters carousel.
"The most beautiful and deepest experience a man can have is the sense of the mysterious." My guy Einstein said that, and it got me to thinking, as they say. And that thinking changed the trajectory of my life. It changed everything. Maybe I relinquished myself to the powers that be, allowing me to be propelled like a steel orb inside some vast universal pinball machine and, after a few weak attempts at paddle-batting back misfortune, I careened directly into the sweet jackpot spot. I wish I could recall the moment it happened, but it wasn't the flipping of the proverbial switch that paved the way to some epiphanous moment. It was a slow transformation. Too slow. I wasted nearly a decade of my life pathetically floundering around. No mystery there.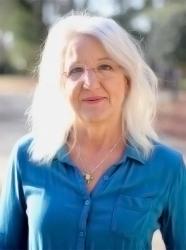 Brenda Sloan started writing in response to the challenge, "One can't simply just write a book." Accepting this challenge gave life to her first novel, The Elusive Mot Juste, and turned an amazing woman into an author worthy of recognition. She lives in South Carolina with her husband, four children, and their goofy Labrador, Buddy.