It's funny how things change. Yesterday, I started a project that brought me immense joy. This morning, I continued the exact same task and it just pissed me off. I was, as they say, no longer in the mood. I was, however, in the mood to pay someone else to do it.
I have always considered myself to be the "handy-girl" type, but I just couldn't "girl up" to this job. Removing wallpaper glued directly to unprimed sheetrock and then painted and repainted umpteen times over 40 years is not only considerably un-fun…it's hard on the nails. The whole affair transformed from an exciting, albeit challenging, labor of love to a day visiting Hell and looking frantically for the water cooler. And yes, I've known that sensation before – desperate to find a restroom in one of those huge home improvement stores. You'd think it would be located in the obvious spot, the plumbing section, but NOOOO, it's always somewhere distant and obscure. In each scenario, the feeling is the same – futility, and the need to ask for directions.
Like most of us, I have been on many dates. Sometimes, they start out as one experience and then transform into something completely different – from the wine flowing across the pristine white linen-covered table that comes with a personal and well-spoken sommelier to the strip mall all-you-can eat (and then some) Chinese Buffet. And yes, I have enjoyed the entire panorama with my spousal unit, but I must confess, there is one surefire good-time date with me – the local hardware store. I love that place. I love the smell of lumber in the morning, afternoon, and evening. I have fantasized about marrying Paul Bunyan, but the name Brenda Bunyan was a bit much, and I didn't even want to think about the mess produced by that giant blue ox. Hardware stores just make me giddy, like a cotton-candy-mouthed kid at an amusement park, but in a more inexplicable yet phenomenally metaphorical way. Like the presence of elves at Mardi-Gras, it doesn't make it Christmas, but it's still a damn good time.
The hardware store is truly versatile. Feeling rugged? Go to the outdoor section and wander among the arborvitae, discuss the different types of mulch, pick up a case of Duraflame logs. Feeling sophisticated? Shimmy on over to hi-tech lighting and all things with remotes and manuals thicker than a Big Mac. Is your humorous side a little tingly? Stroll through plumbing (not to find the bathroom, though laugh about the fact it's not there) and discover that every faucet you feel the need to touch will be inadvertently mounted six feet above your reach and at the border of your eyesight's ability to focus, making it impossible to discern between a brushed nickel and platinum finish. Feeling united? Hold hands through the tile department and confess your mutual disdain for all things grout. Diligently read the dimensions of some items, paying special attention to the weight of said item, and determine if the two of you were to work together, would you be able to lift it safely enough to make the benefit of a DIY job outweigh the deductible on a hernia repair?
Finally, feeling romantic? Coyly walk through the pinnacle of the experience, as well as its namesake, hardware. Be sure to make old people jokes about things like Hardware and Caulking and Nailing and, well, you get the point. Here is the place you can appreciate the magic of the hardware store. You look into the eyes of your Handy-Mate date and think, wow, how handy is it to have this man, right now, to go home with? Pretty handy, eh? And they call it "Do It Yourself." I think not.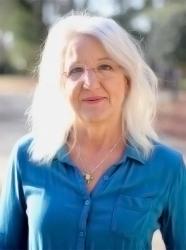 Brenda Sloan started writing in response to the challenge, "One can't simply just write a book." Accepting this challenge gave life to her first novel, The Elusive Mot Juste, and turned an amazing woman into an author worthy of recognition. She lives in South Carolina with her husband, four children, and their goofy Labrador, Buddy.